Posted by Suzanne Thomas on Feb 14th 2014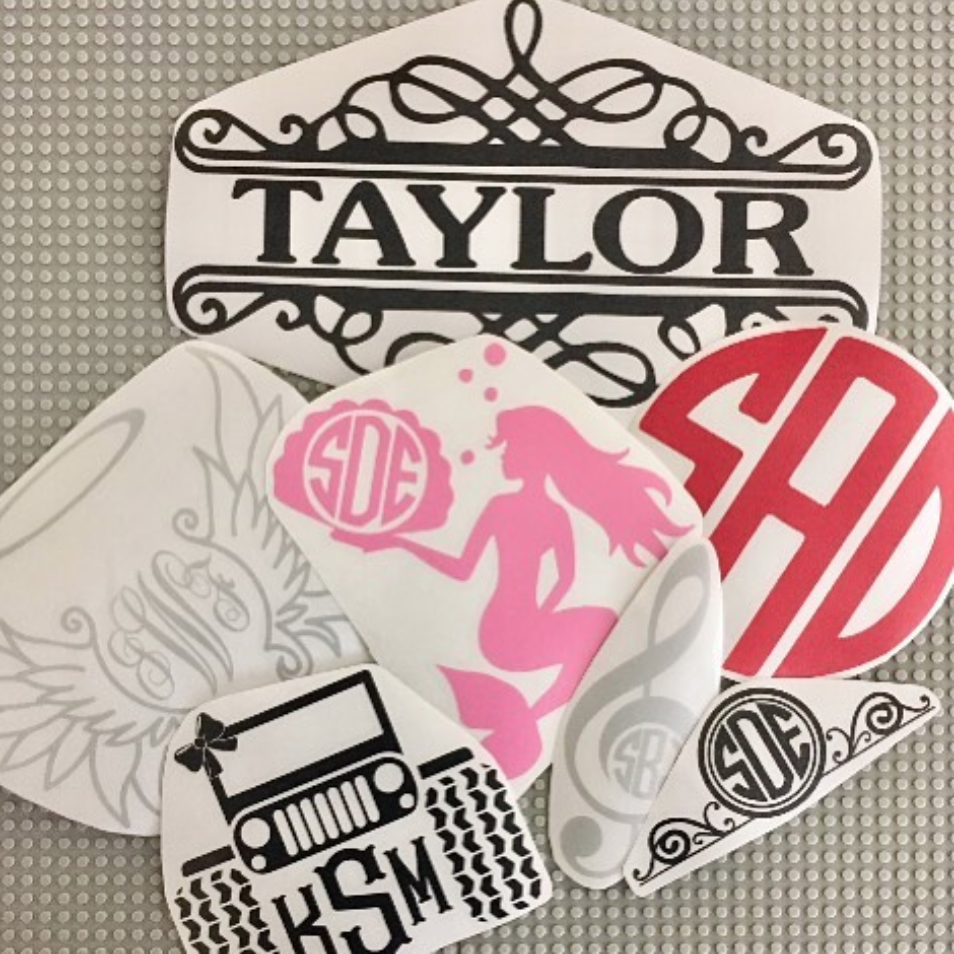 How to use vinyl stickers and decals.
Use custom vinyl stickers in a variety of applications.Vinyl decals can be applied to cars, windows, walls, boats, motorcycles, tumblers, computers, and most smooth surfaces. Advertise your business using decals on your car window or the body of your vehicle. Custom vinyl decals are a one time cost and work for you around the clock. Your business is visible wherever your vehicle is parked during the day or night. Below are some popular ways to use vinyl stickers. Please also visit our decals photos page to view some creative ways to use vinyl decals.
Customize one of our pre-designed decals or get a custom decal made just for you. Our high-quality die cut vinyl car decals and window stickers can be cut any size to fit most anything. The vinyl that we use is a sign grade vinyl with outdoor durability of seven years. Vinyl cut out decals are weatherproof and don't fade like the printed types. By default, the decals are cut to be applied to the outside but can be cut for inside application when requested. The option for inside application is offered during the check-out process.
Get Custom Decals with no minimum order requirements and no setup fees. Decal Junky accepts custom decal requests by email. To receive a quote please attach a copy of your artwork and a description of what you want along with the size and quantity that you need. We will reply with a sample and a link to order. You can order one single decal or decals in large quantity. Discounts are offered for decal orders of 12 or more decals of the same design. Custom decals are great fundraisers for sports teams, dance schools and more. Each decal can be individually personalized at no additional cost.
Car Decals - Apply vinyl decals to the body of your vehicle to advertise your business or display your favorite hobby or sport on your car window.
Window Decals - High-quality vinyl decals look painted on when applied to any surface. They look especially nice on car windows or any glass surface.
Custom Stickers - Customize one of our pre-designed decals or contact us by email for a completely made to order custom decal design with no minimum order requirements. Order one single decal or decals in large quantity at discounted prices.
Etched Glass Decals - Etched glass decals are cut using a special grey frosty translucent vinyl and when applied to a glass surface give the illusion of the image being etched into the glass. The etched glass decals look especially nice on dark tinted windows, mirrors, gun cabinet doors and any glass surface. Frosted glass decals work great for a quick and easy home decor project, just peel and stick!
Wall Stickers - Fit any home decor project. We offer lots of wall quotes, sports, family, animals and just about anything you can think of to decorate your walls all of which can be personalized with your name or the text of your choice. Decals for walls can be cut any size or color to fit any decor. Most of the decals in our online catalog are posted in sizes up to 24'' Please email us for larger size decals as most of our decals can be cut larger or smaller than the sizes listed.
Email a photo of your decal after it has been applied and get featured in our photo gallery and social media pages. We enjoy seeing the creative ways you use the decals.
Decal Junky has been selling car decals online since August of 2001. All of our decals are proudly made in the USA. We are a small company that enjoys catering to our customers. When you call us the person that answers the phone is trained in all aspects of our business and can help you with any questions that you may have. We take customer service very seriously and will work with you anyway that we can to make sure you get the decals that you want.